Will you say 'I've got your back' today?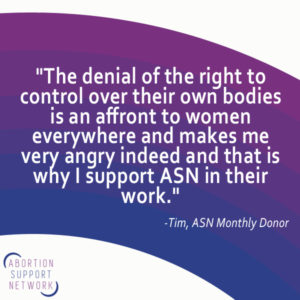 This year, ASN expects to receive calls from 1,000 clients. All of them needing help to get an abortion, denied to them by unjust laws.
All our clients are pregnant and don't want to be. All of them need someone to say, 'I've got your back.' You can do this by donating £10 per month today or whatever you can afford.
If 100 people pledge to do this, it will be an extra £12 for every client we expect to hear from this year. This regular, stable income makes what we do possible. As well as giving grants, ASN offers advice on the cheapest way to arrange an abortion and travel and provides accommodation in volunteer homes when it's needed.