Will you be our fairy godmother?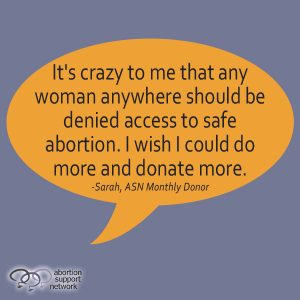 We'll be honest: we tried for a long time to come up with a short, simple way of describing how essential monthly donors are to our clients and to ASN. Were they the backbone? The beating heart? The cornerstone, the foundations, the glue that keeps us together? We liked 'fairy godmother' because it's fun way of saying it, but in reality if you become a monthly ASN donor today, you'll be all of these and more.
Monthly donations are particularly valuable to us because they mean we can budget and plan not only for this month, but for every month. ASN monthly donor Cat puts it better than we could:
"I chose ASN because I trust every penny is spent consciously. I switched from making sporadic payments to making monthly payments when I heard that a predictable and guaranteed income was better for ASN to be able to plan ahead."
Will you join Cat and donate £10 a month? We need as many fairy godparents as possible to have the best chance to help everyone who needs us. Click here or read on to find out more.
Why are you asking now? 
We are seeing increasing amount of need that we just won't be able to meet without more monthly donors – supporters like you. Increased client calls mean more than just money for grants: we need to be able to build ASN's capacity in other ways, from staff costs to having an extra phone line for our volunteer phone team, to a client and supporter database. There are many ways we can become even better at raising funds and helping clients, with your support.
You'll also know that the governments of Ireland, Northern Ireland and the Isle of Man aren't going to put us out of business anytime soon. And while we don't yet know how Brexit will affect our clients, more uncertainty only increases the need for reliable income so we can help them in the most efficient and effective ways.
Our future clients – and we'll likely have 1000 a year in 2017, up from 648 in 2015 – need us to be able to plan for the future. To do that, we need to know how much money we have coming in each month and each year. That's where you come in.
Why £10 a month? 
£10 a month is the average monthly donation to ASN (to the nearest pound). Plus it helps makes doing the sums really easy; £10 a month adds up to £120 a year. If you are eligible for Gift Aid, that turns into £160!
But you can give whatever you want to. Our current monthly supporters donate from £2 to over £100 a month. It all adds up, and every £, € or $ matters to our clients.
How will you use my donation? 
We'll use it in the way that helps the most women in the best way possible that month – and there's a lot that goes into keeping ASN going! For example, one month your donation could go towards a client's grant (our average grant was £282 in 2015) or travel costs; another month it might be used to pay the phone bill, our client database costs, or go towards our staff costs.
Everything that we do is about helping more people access safe abortion. "Raise more money, help more clients" has always been our motto. And we can't help more clients who need abortions without you.
Whatever you donate, you can be sure that you are helping people in Ireland, Northern Ireland and the Isle of Man to get the safe abortions they should be able to get at home.
If you ever have any questions about how we use your money, or would like to talk about how your donation could go towards a specific area of our work, please get in touch by emailing [email protected].
I'm in! How do I…?
…make a regular donation if I don't have a UK bank account?
You're in good company! About half of our supporters live outside the UK. You lovely people can use any credit or debit card with Paypal – just click this link. 
…donate a different amount than what's on the website? 
Thank you – we love surprises!  If you have a UK bank account, you have a few options:
If you don't have UK bank account, unfortunately Paypal is the only option at the moment, and that doesn't allow for choice of amount (you can however set up two separate donations to add up to the amount you want – e.g.: to donate £15/month, you can donate £10 plus £5). Please pick whatever amount you can best afford – and thank you!
…increase my current monthly donation? 
Amazing, thank you! How you do that depends on the method you use to donate currently: