ASN joins Abortion Without Borders and activists in Poland to say "not one more"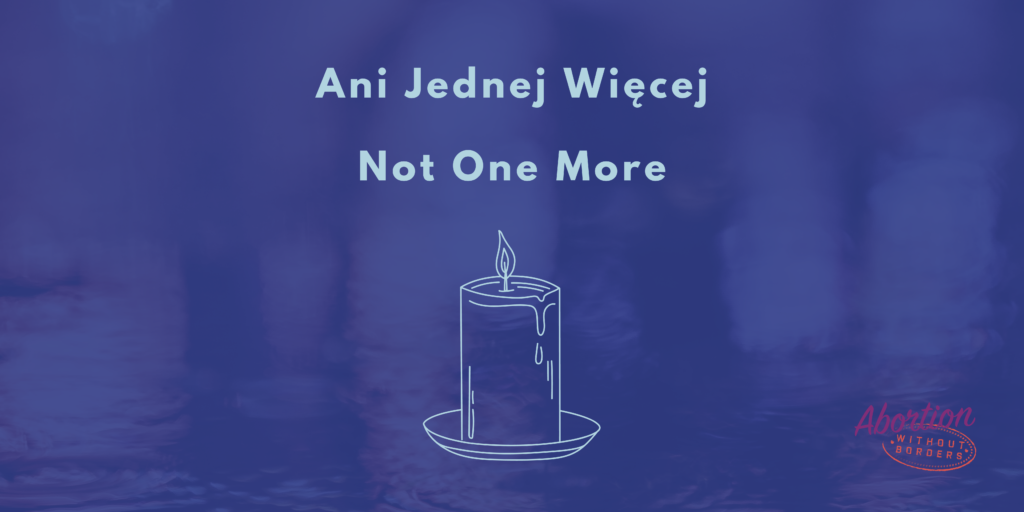 We are devastated to hear about the death of a woman in Poland in September 2021 after being denied an abortion for an unviable pregnancy. The death was reported by legal counsel Jolanta Budzowska on 30 October and confirmed by her family on 1 November. It is the first reported fatality of the constitutional tribunal ruling last year.
Our thoughts are with the family of this woman, who have asked for privacy while they grieve.
Abortion Without Borders will gather outside the tribunal building to light a candle in memory of this woman at 19:00 CET Monday 1 November, and we will light a candle where we are – joining others across Poland, Europe and the world – to add our voices to the call "Ani Jednej Więcej": not one more.
Find more information on the Facebook page here, which will be updated with further information on vigils across Poland.
---
ASN łączy się z Aborcją bez Granic i aktywistkami w Polsce, aby powiedzieć "ani jednej więcej".
Jesteśmy zdruzgotane wiadomością o śmierci kobiety w Polsce z powodu odmowy aborcji. Kobieta zmarła 30 października 2021 roku na sepsę. Przypadek opisała radczyni prawna Jolanta Budzowska w 30 października 2021 r. Jest to pierwsza znana ofiara śmiertelna orzeczenia Trybunału Konstytucyjnego z ubiegłego roku.
Nasze myśli są z rodziną tej osoby, której nazwisko nie zostało ujawnione.
Aborcja bez Granic zbierze się w poniedziałek 1 listopada o godzinie 19:00 CET przed siedzibą Trybunału, aby zapalić świecę ku pamięci kobiety. Przyłączmy się, zapalając świecę wszędzie tam, gdzie jesteśmy – dołączając do innych w całej Polsce, Europie i na świecie, pod hasłem "Ani jednej więcej":
Więcej informacji można znaleźć na profilu Facebookowym, gdzie pojawią się aktualne informacje o czuwaniach w całej Polsce.